Inspired by similar lists I saw some musically-preoccupied friends doing on social media, I decided to challenge myself to list my 10-20 favorite albums of every year for the past four decades. My lists inspired others to reply with their own lists, which turned the project into even more fun than the pandemic could have mustered. To help buttress my summer writing goals, I've decided to revisit my favorite albums of the past four decades, providing some rationale and geographical context for each one. 
---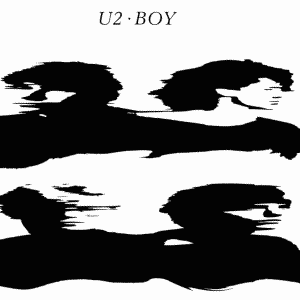 1980
U2 – 'Boy' (Island Records)
In seventh grade, my Reading/Literature teacher assigned us to read William Golding's classic novel Lord of the Flies. We dedicated the first 15 minutes of each class to write short entries in each others' composition notebooks about our responses to each chapter of the main characters' regression. Though the novel's central theme passed me by at the time (likely the result of my own lack of interest in literary analysis more than my teacher's lack of trying), but now I catch myself thinking about it all the time, especially every time U2's debut album (and still their best) Boy reaches it's closing track, "Shadows and Tall Trees." Lord of the Flies had a clear impact on them, too, especially given the novel's takedown of British polite society. Demystifying the book, Golding wrote that the book's theme was "an attempt to trace the defects of society back to the defects of human nature." Still, there was something timeless about proper British schoolboys reverting to bloody savagery when left to their own devices. 
Bono always claimed that U2 attempted to write the quintessential album about youth and adolescence on their debut LP, and the prodigious amount of press that U2 got, even while they were still teenagers (and 5 years before their performance of "Bad" at Live Aid, which I'll put a pin in here) backs up those claims and aims. There's no doubt that, by 1980, U2 were prepared to be the biggest band in the world. When they played at the Bayou in Washington, DC on December 7, 1980, Xyra wrote as much in her review in that month's issue of the Capitol Crisis zine:
"The only cubby-hole one can fit U-2 into is the one marked 'magical.'…. As with all of U-2's songs, there is an urgency about it, as if the whole world depended upon singing and playing the song just the right way….As I left the concert I felt a sense of attachment to U-2 unlike any I'd felt before. It was a mixture of pride at being one of the few people in on their secret, and sorrow at realizing that they can't stay unknown forever. For that would be a tragedy. U-2 are destined to be one of the classic bands of all time, and believe me they will."
Whether or not U2 ever agreed they were a punk band, they certainly emerged from the post-punk era with a hell of a set of songs and a supernatural set of tricks; Xyra would have been honest had that not been the case. Of course, we all know how history proved her closing statement correct, but unfortunately, U2 have spent half of their career as a band making mediocre music. Which is why I still contend that Boy captured that early fire they had, between their choices in artwork, Steve Lillywhite's production, and the way it keeps on revealing its secrets to the world with every listen. It also helps map out just what went wrong with the band, and how tied it was to geography.
On paper, the line "Someday I'll die, the choice will not be mine" (which Bono sings in "Out of Control") could be mediocre teenage poetry, but coming out of Bono's mouth with the band's on-point backing it does sound wise beyond its years. Bono also posed another question of mortality in "A Day Without Me," a ballsy choice for Boy's lead single. One of Bono's cross-Sea contemporaries who would choose death in May 1980, Ian Curtis, lent the song a whole new din as the year progressed. 
Like all great albums, Boy reveals new secrets with every listen – perhaps the most profound of which was an epiphany I had when playing the tape for my partner after she and I had been basking in Joy Division's music for a few days. Thought I'd been listening to both bands for at least twenty years, it never occurred to me just how Joy Division's influence is slathered all over early U2. I haven't read enough interviews to verify it or not, but the blueprint of Unknown Pleasures (released one year prior to Boy) still echoes in a lot of the latter, as much as U2 were not content to slow down their tempo. The key exception here is "An Cat Dubh," a rare appearance of Gaelic in U2's catalog that stands on the shoulders of the finest early goth that they were mustering over in the UK (e.g. "Bela Lugosi's Dead," "Day of the Lords").
As has been documented and dramatized, Ian Curtis took his own life right before his band was to embark on their first tour of North America. New Order's eventual world-conquering notwithstanding, for U2, their Boy-ish dreams were impossible to contain within Ireland's borders. By 1985, U2 were the biggest band in the world and led off their following (great, yet overrated) album with a song called "Where the Streets Have No Name," a declaration that their sights were set on the whole world, not just their small North-Atlantic island country. Unfortunately, the more Bono has tried to save the world, the less enticing his music has become. From a geographical standpoint, that's no disaster, since he's done more to help those in need around the globe than almost any living celebrity. 
But I digress. This isn't about what U2 would eventually accomplish as artists and celebrities, it's about their first album and why it's my favorite record of 1980. Relatively few people heard Boy first among U2's discography (mine was Rattle & Hum, which is a whole separate conversation), yet nothing sounds immature or half-cooked about the album when juxtaposed with their later works. It's alternately amazing and upsetting that U2 didn't seem to improve as musicians or songwriters over the course of becoming the world's biggest band. I mean, it wasn't their final great album by any means, as some of their musical ideas did go a bit more left-field (some more successful than others) into the nineties. For me, Boy still constitutes the closest thing U2 had to a definitive Irish moment, when "the streets that had no name" were only images they had read about in books and in nature programs on RTE. Despite these ostensible limitations, U2 arrived on the scene as the world's greatest rock band, and their debut album remains proof.
For anyone interested, these are my #2 – #10 favorite records of 1980:
Young Marble Giants – Colossal Youth
Dire Straits – Making Movies
Prince – Dirty Mind
The English Beat – I Just Can't Stop It
Dead Kennedys – Fresh Fruit for Rotting Vegetables
The Soft Boys – Underwater Moonlight
Tom Waits – Heartattack and Vine
DEVO – Freedom of Choice
Gary Numan – Telekon